XGAP Object Model
XGAP-OM is the conceptual model behind the XGAP platform. It is designed to provide uniform model for a wide variety of organisms, experimental designs, and biomolecular profiling technologies:
A core for the raw, in process and result data using only four core data types Trait, Subject, Data and DataElement.
A core to for experimental design annotations reusing

​

FuGE data types Investigation, Protocols and ProtocolApplications, OntologyTerms, etc.
Consistently annotate Traits and Subjects using standardized extensions of Trait (e.g. Probe, Marker) and Subject (e.g. Individual, Strain).
Consistently extend XGAP for new types of annotations by adding more types of Strain and Subject (e.g. add 'MassPeak' as a new Trait to annotate 'retentiontime' and 'mz')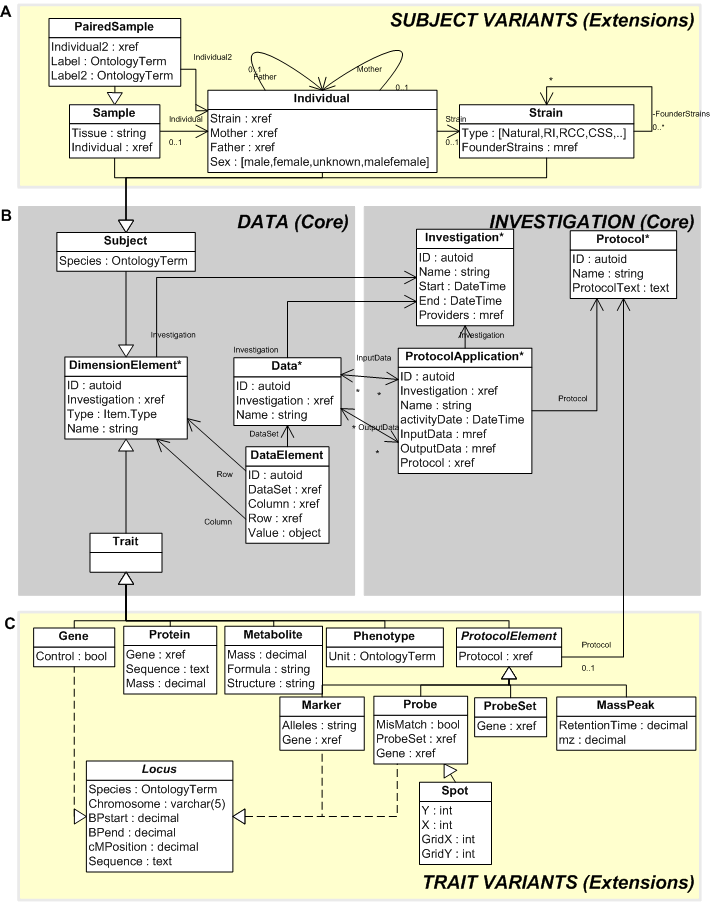 Specifications
*We use MOLGENIS to auto-generate software from the XGAP-OM. To ease integration with other research domain, XGAP has been structured as full extension of functional genomics standard ​FuGE . When generating software from the data model one also needs the FuGE definition. See XgapCustomization.
Attachments
(6)
Download all attachments as: .zip